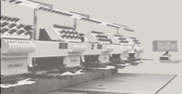 Small elements – graphics, text


This logo is an excellent example of small elements. The Chinese characters depicted here are treated as any other graphic or text using satin stitches, however, the size of the individual characters was a true embroidery challenge.

Notice the background box for the text Asian Bistro. This box is made up of fill stitches and the text is sewn on top of the box. This allows the text to stand out from the background and the small text does not get lost.

TC Choy's is a Tampa bistro and we embroider their logo on oxford cloth shirts that they use as uniforms for the wait staff. This design measures approximately 3.75" wide by 1.80" high. It contains over 6500 stitches and 4 thread colors.
To trim or not to trim


Look closely at the text "Engery" and "Power Pros". Notice the tiny connecting thread between each letter. These threads are easily removed by automatic thread trims between the letters. It adds a little to the overall cost of the embroidery, but will improve the overall look, as well.

TECO Energy has authorization from the Tampa Bay Buccaneers to reproduce the Bucs NFL trademarked logo in conjunction with the TECO Energy logo. Lantana Embroidery Studio has permission to reproduce this logo.

TECO Energy Power Pros is a training division of the TECO. This logo has 6 colors, almost 6800 stitches and measures approximately 3.5" x 2.0 high
Golden Eagles Motorcycle Club

Bond Engineering