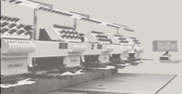 Satin Stitches -- Registration Mark & TradeMark


Satin stitches are smooth and lay one next to the other to form a satin finish. This is a prime example using satin stitches. Many logos are registered or trademarked. We consider these marks as much as part of the logo as any graphic.

We sized the Novell logo to be sewn on sports bags and microfiber handbags. It measures just under 3" wide and almost .70" high. The clean lines of the text is maintained by using standard satin stitches making each letter crisp. There are only 1344 stitches and one color in this elegant logo.
Fill Stitches -- small lettering


Fill stitches "fill in" to form the background box and the state of Florida while satin stitches are smooth and are used for the border around the box. This border, in a third thread color, allows the logo to be placed on a dark garment yet still stand out .The text is presented in two sizes. Both are good examples of small lettering in embroidery.

Florida Engineering and Environmental Services, Inc. elect to put this logo on ball caps as well as shirts. Due to the nature of ball caps, this design was digitized twice. The second design was resized to accommodate the height limitation of caps and sews from the center out, which allows the text to sew better on a ball cap.

There are 3 colors in this 3.80 x 2.20 wide logo and consists of over 7658 stitches.
Tone on tone


Tone on tone is achieved through thread color selection that is slightly darker or lighter than the fabric color in will be sewn on. The embroidery is there, but just barely.

This is a wonderful example of thread color selection that insures the embroidery be subtle rather than pop off a garment. The customer has her own line of golf wear and prefers an understated, elegant look. She wanted the flag to be the focal point so we choose a complimentary subtle color making this a two-color design.

The logo is 1.90" x 2.20" high and consists of just over 2600 stitches. We embroidered on the "hidden" locations of a sleeve cuff, back neck of a jacket and at the waistband of shorts.
Friskies